As we celebrate our company's 15th anniversary, we received the news this week that we have even more to celebrate—for the fourth consecutive year, Vertech is being recognized as a Top Company to Work for in Arizona!
This award is based on anonymous employee surveys and an external analysis of our benefits and culture. This recognition is a tribute to our entire team at Vertech as we work to consistently be a world-class provider of automation solutions and the employer of choice for the best and brightest talent.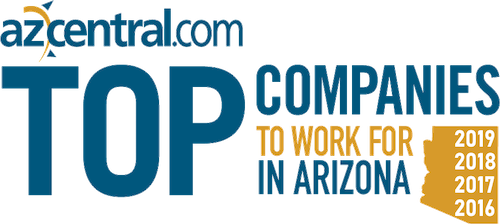 Since starting the company in 2004, one of my top goals has been to cultivate and maintain a unique, innovation-driven corporate culture that attracts the industry's most talented engineers, programmers, and designers who love what they do. In the past 15 years, we have crushed this goal by growing from a one-man show operating out of my spare bedroom, to now having three physical offices located in Arizona, California, and Tennessee with 65 employees spread across six states and two countries.
Our employees, or as we like to call them "control freaks," are all fanatical about delivering the best industrial automation solutions for our clients, and have successfully implemented more than 2,300 projects for 300+ unique customers.
One question I have been asked quite a bit since our founding is, "How did you come up with the name Vertech?" When we first started the company, I wanted to select a name that had some meaning for me, was short, and had an available URL. My wife and I went to a bookstore and started looking at foreign language dictionaries. A few hours and several cappuccinos later, we started creating made up words. We finally agreed on combining "Vertex," which means highest point or pinnacle in Latin, with the word "Technology," to form Vertech. We acquired Vertech.com in 2007, and the rest is history.
To ensure we've continued to live up to our name, a priority of mine has been to keep our team engaged and inspired through a constant focus on technology and ongoing training and professional development. Our focus on technology ensures our team is equipped with detailed, deep skill sets rather than broad, shallow ones, and through our growth and development programs, each employee receives a minimum of 40 hours of formal training per year.
Additionally, we've always known that a big part of staying mentally sharp involves ensuring care for the whole person. We strongly believe that one of the reasons we're able to continually produce world-class products is because our team members have well-balanced lives and enjoy their work. This has become an ingrained part of our culture with activities like Programmer's Pint training sessions and Friday morning breakfast meetings. Gym memberships, smoothie Wednesdays, camping trips, our annual Closed House party, and many other activities throughout the year keep us engaged and focused.
I am proud of what Vertech has achieved over the past 15 years and extremely honored to receive recognition as a Top Company to Work for in Arizona or the fourth year in a row. I truly enjoy getting to work alongside such a talented, passionate, and driven team every day, and can't wait to see what's in store for us through the next 15 years.
Interested in becoming a control freak too? Check out our current job openings!