Modern manufacturing businesses continue to achieve ever higher levels of productivity through automation. A recent Harvard Business Review article estimated that between 1993 and 2007, robots alone contributed 0.36% of US labor productivity annually. That translates to 5.5% total productivity gain over 15 years. That kind of financial impact is hard to ignore, especially for long-term growth strategies.
Here are a few things to keep in mind when evaluating the impact industrial automation can have on your business.
Drive automation from the top down.
Automation should have a tangible effect on your financials. Producing higher quality products gives your business a competitive advantage and increases your top line. Faster production can reduce per unit costs and improve customer responsiveness, positively affecting both revenue and margin. Efficiency improvements can increase plant capacity and prevent costly plant expansions.
Focus on the right areas.
In a January 2017 study, the McKinsey Global Institute found that about 60% of all manufacturing labor could be automated with existing technologies. The area with the highest potential productivity gain is predictable: physical labor. Look to automate predictable tasks on the plant floor to reduce labor costs and increase quality and throughput.
To assess where automation could be most profitably applied to improve performance,

business leaders may want to conduct a thorough inventory of their organization's activities

and create a heat map of where automation potential is high. Once they have identified

business processes with activities that have high automation potential, these could be

reimagined to take full advantage of automation technologies (rather than just mechanically

attempting to automate individual activities in the current processes). They could then

assess the benefits and feasibility of these automation-enabled process transformations.
McKinsey Global Institute
The second and third areas on the McKinsey list are data collection and data processing. Combined, these areas have almost twice the impact of traditional automation. Automated data collection combined with modern reporting and analysis tools can multiply the impact of your traditional automation assets. These systems reduce labor costs and increase accuracy in existing plant data collection and reporting systems, but they can also reveal hidden efficiencies. Tools such as OEE and downtime tracking applications can lead to significant margin increases. See our post titled Affordable Efficiency for more on this.
Look beyond the plant floor.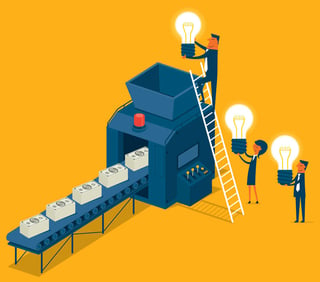 New technology is expanding the role of automation beyond the plant floor. Computers are beginning to improve human decision making and can give decision makers the edge by providing actionable, relevant data to feed strategic plans. Board level dashboarding and edge analytics provide real time production and inventory information in real time all the way to the CEO's desk. If you intend to take advantage of those technologies you must install automated data collection in your facility. You can always choose your analysis tools tomorrow, but be sure your data is being stored today.
Prepare to modify business processes.
Automation of plant floor labor will impact production SOPs. Automation of data collection and processing will have a much greater impact on SOPs across multiple functional areas. Make these process modifications a component of your automation projects to increase the likelihood of adoption and success.
Take the long view.
Automation can improve your bottom line today, but don't get too stuck on ROI. This is not a zero sum game. Automation is not just about increasing the spread between the top and bottom lines, it's about discovering new opportunities to grow the whole organization. Big ideas come from new information and new ways of looking at existing information. Manufacturing intelligence systems can provide fresh perspective to take your business beyond what you think is possible today.
Partner with an integrator.
We're admittedly a little biased on this, but there is a lot of value in partnering with a control systems integrator. Use integrators as trusted advisors to stay up to date on the latest technology and how to apply it in your business. We know what works, best practices for design and implementation, and we can help you avoid costly pitfalls as you work to stay competitive and profitable.
Learn more about our capabilities and how we can help you integrate automation into your business.
Download our latest white paper, "5 Risk Mitigation Techniques for Control System Upgrades", to learn how to take a manageable approach to a control system upgrade as well as five strategies to use to mitigate risk during your upgrade.