In our work lives, the ever-increasing amount of information readily available can make it feel like our task lists are endlessly growing. Instead of making us more productive, the information overload we face is having the exact opposite effect, oftentimes hindering our productivity. For manufacturers specifically, not only is there an abundance of data available and collected, but that information tends to live in islands throughout production facilities.
Instead, imagine a world where all the data collected throughout a facility was accessible to every operator, manager, and executive as needed. This is what manufacturing execution systems (MES) are all about. Simply put, MES solutions are integrated control systems used to manage and monitor the work-in-process on a factory floor to get the most out of your equipment and staff.
Here are brief overviews of 9 MES solutions you can work with an integrator, like us, to implement to increase your business performance:
Overall Equipment Effectiveness (OEE)—Roughly a measure of how efficient you are being with your process.
Downtime Tracking—Collects and shares information about which machines are down and what caused the downtime.
Data Entry Automation—Minimizes manual data entry, or bypasses the human factor entirely, by collecting information directly from machines on the line.
Track and Trace—Shows you where all materials went, what was produced, and provides data to easily reconcile inventory.
Asset Management—Helps you manage the risk of equipment failure and the resulting costs and downtime.
Predictive Maintenance—Brings awareness to equipment that is not running optimally so you can address these inefficiencies before they turn into issues.
Production Scheduling—Maintains an accurate picture of what's being produced on which line at any given time.
Recipe Management—Organizes the specific combination of ingredients or raw materials and equipment and tools that need to be used in a set sequence to create the final product.
Statistical Process Control—Emphasizes early detection and prevention of problems rather than the correction of problems after they have occurred.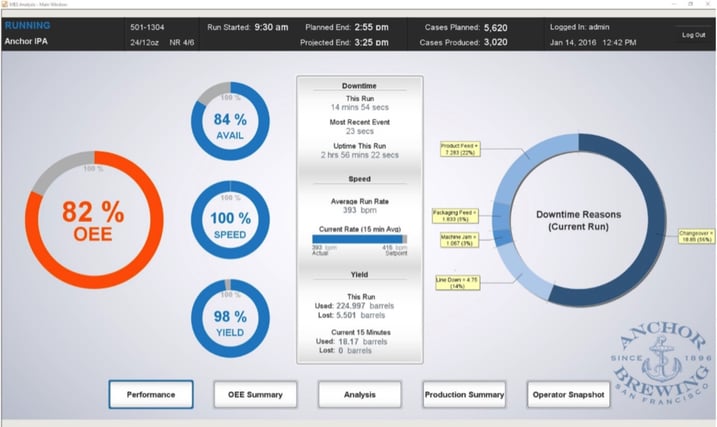 A screenshot of OEE and downtime tracking implemented at Anchor Brewing.
MES solutions are the flashlight that light the way on the path to continuous improvement. MES tools bring efficiency to your organization by streamlining data flow, which will increase your production capacity without the capital expense. And, rather than embarking on continuous improvement initiatives that may or may not benefit your organization, you can use MES tools to show where your efforts will be best spent. Our engineers are passionate about automation and will work with your organization to install flexible MES solutions that can be built upon incrementally.
Download our whitepaper, "9 Tools Every Plant Manager Needs to Improve Business Performance," to learn more about each MES solution described here.