As your organization prepares to morph its facilities into a digital factory, it is important to understand how tools, such as manufacturing execution system (MES) software, can help manage these changes. MES integrates all databases, machines, and people within your plant into one cohesive, interconnected system that eliminates islands of information, such as handwritten paperwork, whiteboards, Excel spreadsheets, and isolated software systems.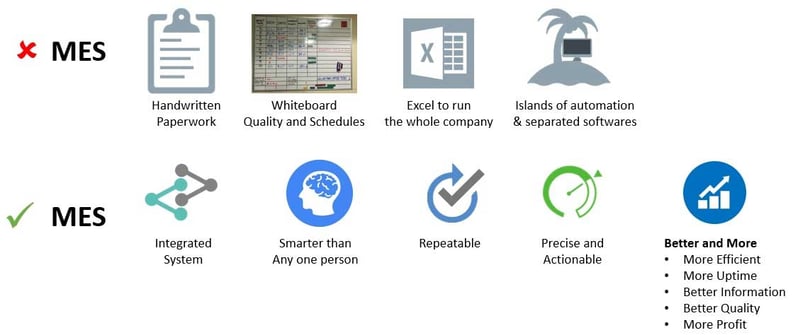 MES technology produces repeatable, precise, and actionable data that is essential for your team to improve plant efficiency, uptime, quality, and overall profitability.
While many facilities have brilliant individuals working in them, no one person can possibly take in all plant data, analyze it, schedule everything, notify everyone, and point out all the areas for improvement; but MES tools can. Through automation, software, and networks, MES tools can bring all the information and brain power available in a plant into one system. Here's a high-level look at the four most common MES tools and how they help ramp up the digital factory:
OEE & Downtime Tracking

Measures performance, downtime, and product quality to help you understand the "why" and make changes to increase efficiency

Track & Trace

Tracks a batch, work order, or load from raw materials to finished goods for quality, traceability, real-time status, and association of information

Statistical Process Control (SPC)

Digitally tracks the quality standards and acceptable variations of consistency and accuracy, producing better-quality products with less waste

Recipe Management and Tracking

Stores and manages all your recipes to improve recipe versioning, line control, and changeover duration
Other ancillary MES tools may include integration to ERP, scheduling and demand planning, CMMS maintenance management, poka-yoke error proofing, and work instructions and workflows.
For more details on these technologies, read our white paper on 9 MES Tools Every Plant Manager Needs to Improve Business Performance.