Most craft breweries begin as small batch brew houses started by beer-lovers with a passion for the craft. As breweries achieve success and grow, it's common to experience problems in quality, profitability, or both depending on the methods used to increase production.
The good news is that it's not only possible to maintain quality as quantity increases, it's possible to scale your brewery without compromising your unique identity and brand. Implementing manufacturing execution system (MES) software can assist your team with tasks ranging from production scheduling to ingredient tracking and recipe management to efficiency and quality monitoring. Best of all, you can connect these systems to provide everyone on your team one common location to monitor and control the business.
For example, we recently worked with Anchor Brewing in San Francisco to automate gathering data on production rates, waste, and downtime on a running line without interrupting production in any way. Their system was rather complex, with dozens of line and network configurations, programmable logic controllers (PLCs), and meters across a variety of brands.
Using our control and automation expertise as well as our vast experience in the food and beverage industry, we developed MES software that records and analyzes data for multiple product volumes, configurations, and various sized items. The data is displayed in a simple intuitive operator interface that includes a separate high-level analysis tool with a cost calculation feature and graphical data generation for supervisors.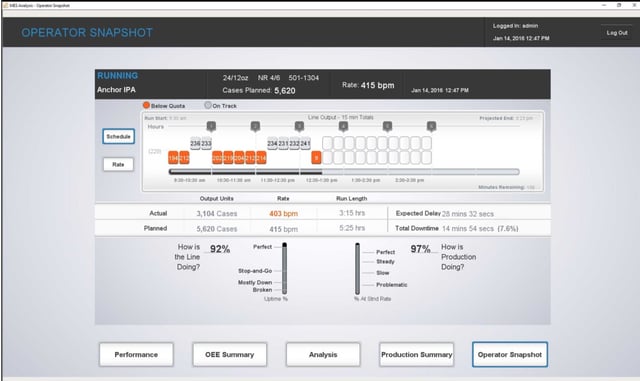 With the analysis capabilities provided to supervisors with this MES software, non-capital efficiency improvements can be identified, and informed decisions can be made on the potential return of capital projects.
Read the full case study to learn more about the MES software we built for Anchor Brewing.