For heavily regulated industries, such as food and pharmaceutical, manufacturing execution system (MES) tools can offer manufacturers a valuable level of insight into their processes. Using a track and trace system on top of your organization's control system to monitor the progress of a product through the manufacturing process can provide a wealth of information to all users, from operators to managers.
The data provided by track and trace can include information such as product genealogy, lot information, raw material usage and waste, and real-time production progress monitoring. Value from track and trace is realized by taking this data and implementing process optimization and limiting risk in critical situations.
For example, with track and trace, plant managers can see where all raw materials were used and what was produced. They can then use this data to easily reconcile inventory, know what is available, and when orders need to be placed. This can also help save money by reducing scrap and waste materials.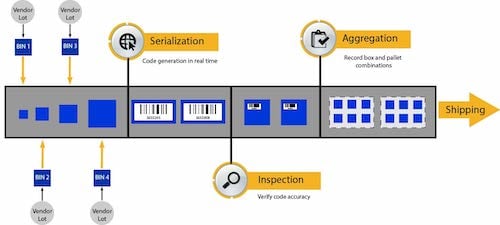 An example of a track and trace process implemented on a manufacturing line.
With the information collected using track and trace tools, details on the materials used in each batch manufactured are available. For example, if you have a meat packing plant, you need to know exactly how many pounds of each product went into every batch. This can be extremely important information in the event of a recall due to contamination because you can precisely pinpoint the batches that contain the problematic ingredient and efficiently implement the recall.
To go beyond tracking the products you produce and look at how you can use asset management to track a variety of information on the assets in your plant, check out this blog. Our next blog in the MES Essential Tools series focuses on Predictive Maintenance.
Download our 9 MES Tools Every Plant Manager Needs to Improve Business Performance white paper to examine all the best MES tools for increasing business performance.