Digitization is a hot topic on everyone's minds, with its promises to make manufacturing companies competitively lean and mean. The tangible benefits of digitization include shorter innovation cycles, increased flexibility for rapid response to market changes, improved quality due to early detection and raw material traceability, and increased efficiency. But what does it really mean for you, living in the real world of budgets and red tape? And where do you start?

MES software tools are a great starting point as they improve the availability of operational information throughout the enterprise. This information technology is enabling step changes in business efficiency through truly transformational improvements in information flow. More data, improved analytics, and automated information sharing and collaboration are all stepping stones on the path to a fully digital factory.
As with any capital improvement project, management will not approve the budget unless the benefits outweigh the costs. At its core, an MES investment is about eliminating losses on the factory floor, so we need to identify root causes of waste introduction, such as:
Overproduction

Over processing

Inventory

Transporting

Rework and rejects

Waiting time

Breakdowns

Small stops

Reduced speed

Setups

Manual controls
Data flow issues
Human error
QC failure
Areas of losses are often small and frequent (versus large and infrequent breakdowns that are easy to spot). Therefore, consider creating an "as is" process map that combines human feedback with automated data from MES or SCADA tools to identify these hard causes of waste, quantify their impact, and justify the investment cost. Your careful analysis can translate very technical process issues into bottom-line savings for the decision makers.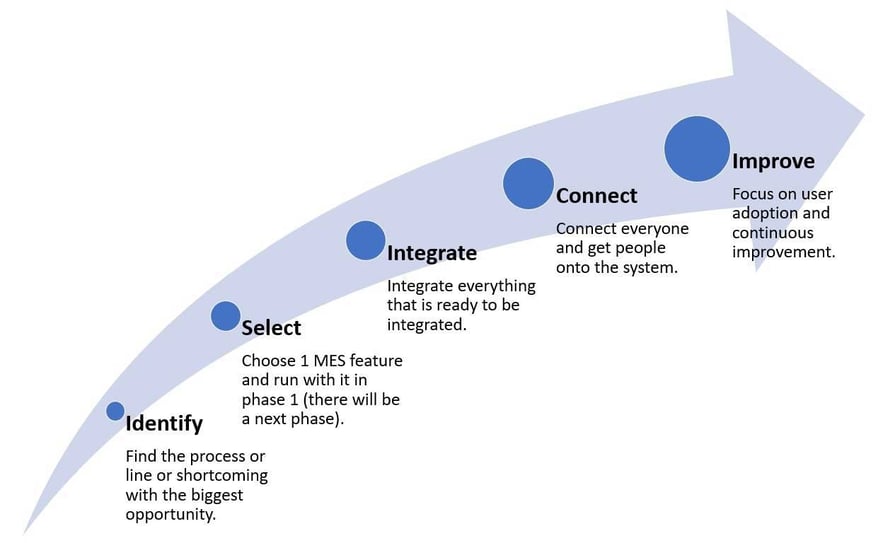 Your factory is ready for change right now, so start somewhere and get everyone plugged into the new system.
Converting to a digital factory may seem like a huge, scary risk, but the key is to start with low hanging fruit that has the biggest impact. Pick one process or shortcoming in the facility – like an easy-to-install automation task or integration with an existing ERP system – and select one or two MES tools to address them.
Get as many people (from management, operation, maintenance, and so on) involved and trained as possible. We strongly believe that the more employees you have using and improving the new system, the more the value goes up exponentially. Over time, you can integrate more MES tools and additional processes or lines until you've eventually unified your facility and people to create a fully digital factory.
Want more? Download our full white paper: A Practical Guide for A Successful Digital Transformation.