For 30 years, Weber Metals has been a major supplier of aluminum and titanium forgings within the aerospace industry. Having such a large operation makes collecting real-time, accurate data imperative to operations. To help Weber Metals achieve this, Vertech integrated all existing PLCs to a supervisory PLC and SCADA software that provided central trending and the ability to report actionable data for the entire site.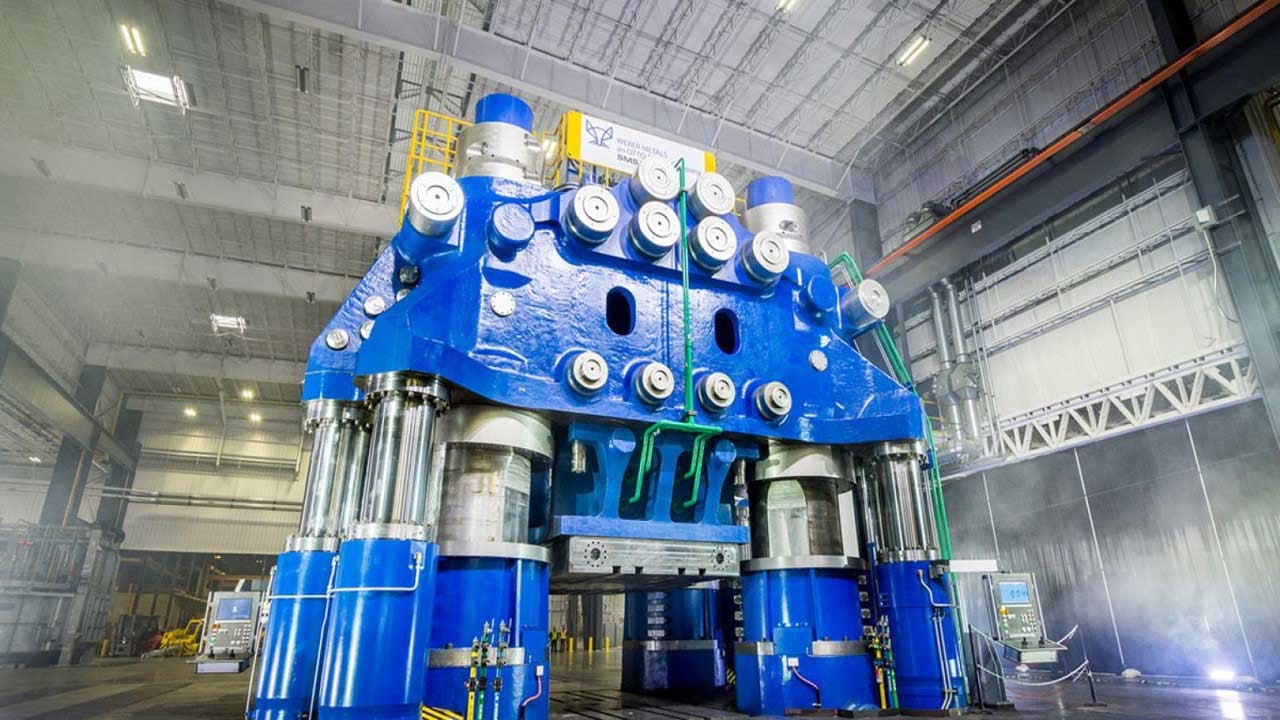 Challenge
As the largest aerospace forging press in the Western Hemisphere, Weber Metal's 60K Press is a complex machine requiring precise control and relying on a variety of supporting equipment. Operators need to coordinate the functions of all these machines to keep production running, but this was not a simple task with operator interfaces at each piece of equipment. Additionally, relying on vendor-supplied interfaces made modifications and additions to the system as a whole complicated with many different suppliers and programming packages involved. Weber needed a centralized control center to monitor and control operations. In addition to monitoring, operations needed the ability to coordinate production on the fly with multiple machines and operators.
Solution
Vertech started the process by connecting existing PLCs into a supervisory Siemens PLC and reproducing local HMIs in a centralized SCADA software platform. Siemens WinCC Open Architecture (OA) was selected for the SCADA platform for is power, flexibility, and scalability. Through this platform, both operators and management are now able to monitor, alarm, trend, and report based off of data at the press, furnaces, manipulators, and cooling tower control systems all from one central location.
SCADA screens provide the operator with all information needed to operate, maintain, and analyze the field equipment. All load data is stored in a SQL database and can be viewed from any of the designed mission screens. The mission screens allow a lead crew member to assign part movement to and from any location in the work cell. To run missions more efficiently, mobile tablets attached to the manipulators provide mission information on the fly to the operators. Historical mission information can be retrieved for each mission providing product manufacturing information.
Benefits
The connection of the PLCs and SCADA software create the ability to have central trending and report actionable data for the entire site. With power and flexibility integrated into the interface, the desired control and monitoring was achieved.
Production is now running more smoothly by having access to real-time data, as it is easier for them to create missions for operators. Most importantly, the integrated and scalable SCADA system can accommodate for Weber Metals' future operations because they build and add new equipment to their operations.
Learn more about Vertech's SCADA solutions and expertise.