Vertech has some exciting news to share... We've just become a member of CESMII, the Smart Manufacturing Institute! We're joining forces with other smart manufacturing experts to bring about a revolution in U.S. manufacturing. We're talking Digital Transformation, Industry 4.0, and beyond.
"It's no secret that smart manufacturing represents how organizations will succeed in the coming years and decades," commented Titus Crabb, Vertech's President. "And partnering with CESMII allows us to put our best foot forward by collaborating with the best and brightest minds in the smart manufacturing space. We're looking forward to building great things as part of CESMII."

So, have you heard about CESMII (pronounced sez-ME)? They're a non-profit institute that was founded in 2016 to support the smart manufacturing industry. They help businesses succeed through industry networking, education, and workforce development. They even fund research projects, spearheading a nationwide effort to produce, test, and deploy SM technologies. Plus, CESMII has brought to life the Smart Manufacturing Innovation Platform (SMIP). SMIP helps drive digital transformation to new heights by establishing key specifications and the First Principles of Smart Manufacturing™.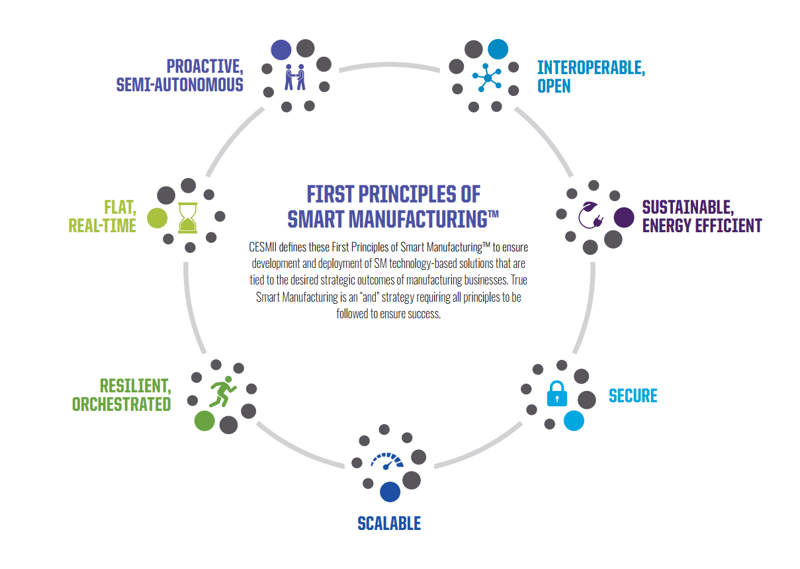 Image courtesy of CESMII
One of 16 Manufacturing USA institutes, CESMII is on a mission to create a more competitive and productive manufacturing environment here in the U.S. They're committed to ushering in innovative solutions that lay the groundwork for smart manufacturing strategies. Sharing a like-minded passion for innovation combined with our extensive expertise, Vertech is well-positioned to contribute to CESMII's mission.
John Dyck, the CEO of CESMII, is just as excited as we are about our new partnership: "In our ongoing effort to democratize and improve access to smart manufacturing practices, we're always looking for innovative, aggressive companies that can help us continue to evolve and grow. We're excited to have an industry changemaker like Vertech join us to help advance the adoption of smart manufacturing across the U.S."
We can't wait to see the great things Vertech and CESMII will accomplish together. The revolution is on!
Interested in how we use smart manufacturing standards to build bulletproof solutions? Chat with one our MES engineers to learn more.