In late 2022, Vertech ushered in a new era of leadership development by handpicking a group of six promising individuals, including myself, for their inaugural leadership program, VertechLEADS. Collaborating with ADVISA, a renowned leadership development company, Vertech aimed to transform our latent leadership potential into tangible and effective leadership skills. Here's an inside look at my 10-month journey through the VertechLEADS program.
Embarking on a Transformational Journey
The program consisted of five engaging sessions led by ADVISA, each designed to reframe our mindsets about leading from the inside out. We each started the program by completing a behavioral assessment, a crucial part of our leadership development journey. The assessments provided us with invaluable insights into our natural tendencies and behaviors in various situations. Understanding our inherent leadership style proved to be the compass guiding our path to becoming effective leaders.
Here are the results of my behavioral assessment:

Discovering My True Leadership Style
I found it interesting to examine the intricacies of my behavioral profile, seeing how I am most likely to behave on a given task or project. But what intrigued me even more was how it compared to my perception of my job.

These assessments weren't about determining whether we were in the right roles. Instead, their purpose was to catalyze self-reflection and group discussions. By looking inward, I recognized how I unconsciously used my natural behaviors to shape my work life to make it more engaging and enjoyable. This led to a broader realization: that everyone else is doing the exact same thing, though in their own unique way. We discussed how each person is similar, yet unique. We all have more effective and less effective ways of interacting with each other and with ourselves. This heightened self-awareness served as the initial steppingstone on our leadership development path as we journeyed toward our ultimate goal of 'Driving Business Results.'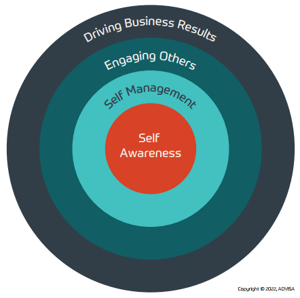 Interactive Learning That Fosters Authenticity
One surprising aspect of the program was its interactive design. The program required us to complete learning materials before each meeting, ensuring that our sessions were primarily discussion-based. Slides were rare, but even when they occurred, they prompted group discussions to share our individual insights. However, what truly broke the ice were the small 5-minute breakout sessions. These intimate groups of 2-3 people minimized the fear of saying the wrong thing, fostering our most authentic conversations.
The Unforeseen Connection: Personal Development Projects (PDPs)
We each had to complete a Personal Development Project (PDP). The goal of the PDP was to hone our technical knowledge in our respective fields. At first, I didn't understand how PDPs related to leadership development. It wasn't until the course's conclusion that the pieces fell into place. I realized that, albeit unintentionally, I had already been using the leadership skills we had been developing to complete my PDP. To my surprise, I learned that I had primarily employed the skills of self-awareness and engaging others during an asset management application project.
Based on my behavioral index, I learned that I prefer a steady, patient workflow (high C) and the freedom to approach tasks/projects as I see fit (low D). Therefore, I create an avenue of self-directed learning that is self-paced and project-oriented. Through this approach, I successfully achieved the following:
Meticulously planned a clean database architecture in 3NF.
Crafted SQL scripts to populate a database with those tables.
Authored well-organized Python scripts to query that data into Ignition.
My Journey Through VertechLEADS
The VertechLEADS program nurtured the leadership skills within me through an eye-opening journey of introspection and interactive learning. The program helped me gain a deeper understanding of myself and my capacity to lead effectively. I look forward to continued growth in my role at Vertech as I find more ways to apply the skills learned and knowledge gained during this transformative program.