Inductive Automation has taken Ignition to new heights with their recently launched Ignition Cloud Edition. This cutting-edge platform seamlessly combines the power of the cloud with the robust features of Ignition. In this post, we'll explore what makes Ignition Cloud Edition unique and how it differs from the standard Ignition platform. Plus, we'll talk about the scenarios where Cloud Edition really soars.
What is Ignition Cloud Edition?
Ignition Cloud Edition gives you the power to extend your automation architecture to the cloud - HMIs, SCADA, MES, and more. While standard Ignition can still be used in the cloud, Cloud Edition facilitates an easier, quicker, and more flexible way to create a hybrid architecture.
A hybrid automation architecture incorporates both on-premise and cloud-based systems. Your local gateways (Ignition Edge) and central gateways (standard Ignition) send information to a Cloud Edition gateway for comprehensive enterprise-wide data aggregation and monitoring. This hybrid approach allows for an optimal combination of local processing and cloud computing power.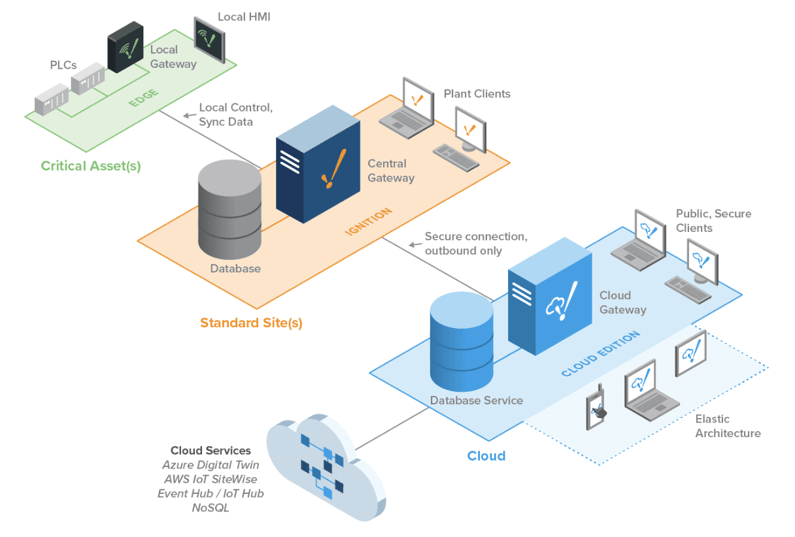 Since it's deployed in your business's cloud environment, you can access Ignition Cloud Edition from your cloud infrastructure on any device with an internet connection without downloading a thing. This ensures that critical data is always easily accessible for analysis and decision-making, regardless of location or device.
The inherent nature of cloud infrastructures gives Ignition Cloud Edition extreme flexibility and accessibility.
Ignition Cloud Edition makes scaling your computer power a breeze thanks to the nearly limitless storage capability of the cloud. Have you ever increased the cloud storage space for your personal data? Well, increasing your cloud storage space with Cloud Edition is just as easy and virtually instantaneous. You won't have to worry about running out of space or waiting for storage upgrades.
The coolest thing about Ignition Cloud Edition is that it gives you access to all the benefits of cloud platforms. Enjoy the world-class reliability and security that Amazon AWS and Microsoft Azure are known for. Plus, get access to AWS Cloud Formation templates, unlocking the ability to define architectures on the fly. And this connection to the cloud makes it even easier to integrate cloud-native technologies like AI and machine learning. It opens a whole new world of possibilities!
What makes Cloud Edition different from Ignition?
If you're curious about what sets Cloud Edition apart from standard Ignition, we've got the scoop! There are three major differences - modules, availability, and pricing model.
Ignition Cloud Edition Modules
Cloud Edition comes bundled with a predefined set of cloud-connector modules instead of the built-in device drivers found in standard Ignition. And while you can't add more Ignition modules to Cloud Edition, you can add in some third-party ones (but heads up, you might need extra license keys).
Let's take a quick look at the modules that come preloaded with Ignition Cloud Edition:
Ignition Perspective
Alarm Notification
Enterprise (EAM)
Mongo DB
OPC UA
Reporting
SQL Bridge
Tag Historian
Twilio Notification
Voice Notification
Web Deployment
MQTT Engine
MQTT Distributor
MQTT Transmission
Ignition Cloud Edition Availability
Getting your hands on Ignition Cloud Edition is relatively quick and simple. Instead of acquiring it directly from Inductive Automation like standard Ignition, you can find it as a pre-built image or container in the AWS and Azure (coming soon!) marketplaces.
Pricing Model for Ignition Cloud Edition
With Cloud Edition, you don't need an upfront license like you do with standard Ignition. And Ignition Cloud Edition is not software-as-a-service (SaaS) either. Instead, you purchase it through your favorite cloud marketplace and deploy it in your own cloud environment. This means you'll enjoy scalable payment options like pay-as-you-go. It's all about flexibility and convenience.
Features
Ignition Cloud Edition
Standard Ignition in the Cloud
Cloud Capable

Rapid Deployment

Preloaded, fixed modules.

Customizable

Choice of modules.

Pay-as-You-Go

Fixed Pricing
When should you use Ignition Cloud Edition?
As one of Ignition's top integrators, we're thrilled to have another amazing option from Inductive Automation added to our tool belt. But let's be clear. Ignition Cloud Edition isn't intended to be a standalone product - you'll still need standard Ignition for on-premise control and data acquisition from plant-floor PLCs. And standard Ignition users can already use it in the cloud without help from Cloud Edition. So, when exactly should you choose Cloud Edition?
You need flexibility. Cloud Edition's monthly pay-as-you-go model allows you to easily scale up or down as your computing needs fluctuate, reducing upfront costs.
You want a quick, simple deployment. With a preloaded set of IA modules plus your choice of upcoming cloud formation templates, Cloud Edition can be up and running in minutes. It streamlines the cloud deployment process, saving you tons of time.
Ignition Cloud Edition is another fantastic platform from Inductive Automation that brings together the best of Ignition and the power of the cloud. It's all about enhancing your automation architecture to maximize your data collection, visualization, and system management. By combining Ignition, Ignition Edge, and Ignition Cloud Edition together, you can build a hybrid, scalable, and affordable enterprise-wide automation system.
Speaking of really cool SCADA and MES systems, we'd be honored to help you build the system of your dreams. Reach out to one of our Ignition experts to chat about your project.
Happy automating!