It's safe to say that every Control Freak looks forward to the Vertech Annual Christmas Party. Serving as the final send-off for the year, the Annual Christmas Party is a time for the Vertech team to celebrate accomplishments, come together and create lasting memories.
Vertech's past Christmas parties have set the bar pretty high, with beautiful resort stays, classy dining spreads, and killer dance moves. Because we have multiple locations, the party is one of the few chances where Control Freaks can see each other in person.
As you can imagine, this was difficult to replicate in 2020. However, COVID-19 didn't stop the team from finding new ways to keep the Christmas tradition alive.
The festivities began with a very special box delivered to each guest. Inside were all the provisions necessary to recreate a fine dining experience, complete with a Visa gift card, champagne glasses, and cookies!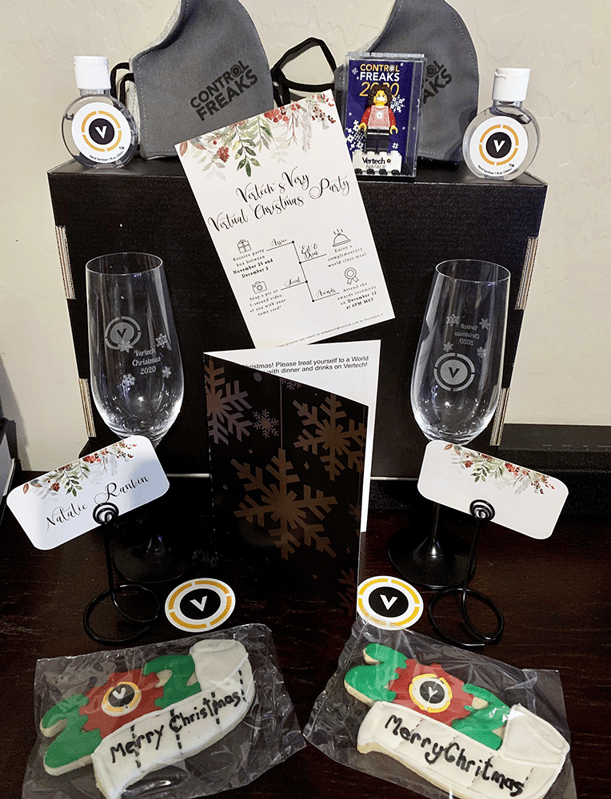 Also included in the box were LEGO figurines, decked out in Vertech attire and personalized to match the appearance of the team member receiving it. This was a personal favorite for a lot of folks.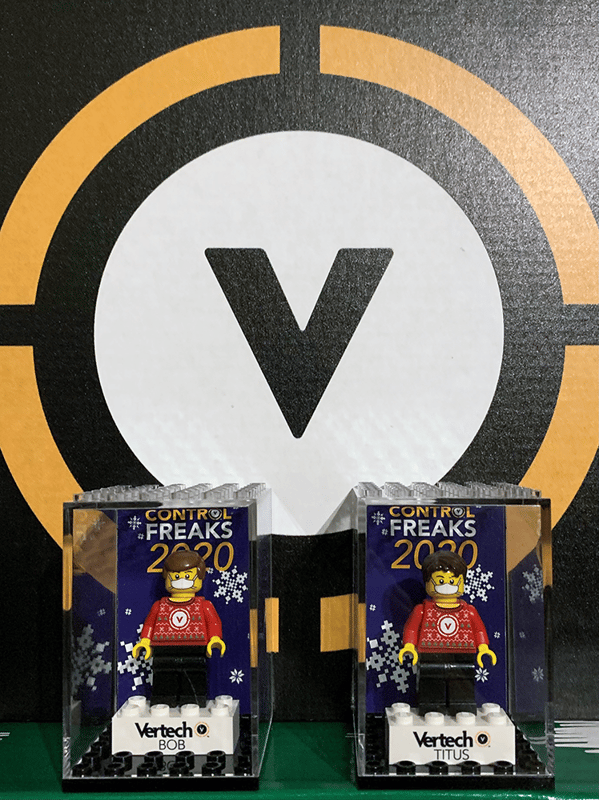 On a Saturday evening in mid-December, Control Freaks from across the country came together to celebrate Vertech's Very Ver-tual Christmas Party. As the name implies, Vertech went all-digital with their Christmas party by hosting a virtual awards ceremony.
The event was hosted by President Titus Crabb. He gave a yearly recap and acknowledged all the hard work that went into making this exceptionally unique year a good one. He also gave out some "Best Of" awards. These awards recognized individuals that brought a little something extra to the table. The awards ceremony concluded with a slideshow of all the Control Freaks with their party boxes, as well as some highlights from another successful year for Vertech.
In some ways, Vertech's Very Ver-tual Christmas Party brought more people together than in years past. Travel and scheduling conflicts can make it difficult for some to fly all the way out to Phoenix for a weekend. The digital party offered more inclusivity in some ways, because it was easy to join in from anywhere.
As different as last year was, Vertech managed to overcome the unexpected and dish out another year of success by providing world-class industrial automation solutions. That's something worth celebrating (as long as the celebration is socially distanced). Here's to 2021 and what the future has in store for Vertech!